Sergeant Johnson Beharry – A Shining Example To Us All
Posted on December 4, 2013 in Role Models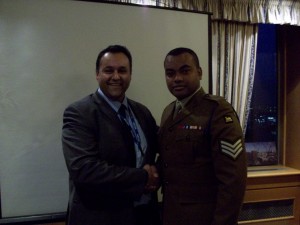 Two weeks ago at the launch of the 'Building Our Futures Together' project, we had the pleasure of meeting Sergeant Johnson Beharry who attended the event in Westminster in Central London. The background of Sergeant Beharry is one of courage, community engagement, commitment and a desire to do what is right for communities. It is not only his heroism that stands tall when you meet Sergeant Beharry, it is the humble attitude and the quiet voice that grab you. They possibly hold testament to a man who has had to meet death and walk away from it with his mind and body intact. 
Sergeant Beharry was born in Grenada and moved to the UK in 1999. He also joined the Princess of Wales's Royal regiment in August 2001 and went onto serve in Kosovo and three months in Northern Ireland. It was in Iraq that Sergeant Beharry came into his own, risking his life for others in his platoon.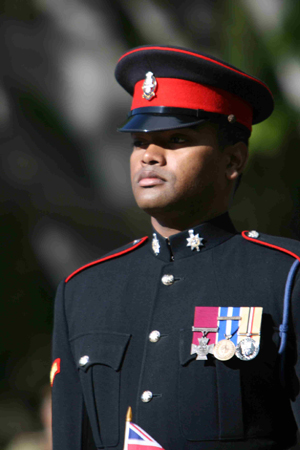 Having spoken to him at the event, it is strikingly obvious that Sergeant Beharry is a reflective man, someone who has a discipline and maturity that has been shaped by his experiences. Yet, talking to him, you feel that he cares for the young, the unemployed and the old and a strong sense of social justice runs through him. We talked about what he wanted to do and responses were clear; he wanted to motivate young people, he wanted young Black and Minority Ethnic (BAME) men to think about structure and a future built on hard work, yet he also understood that injustice, prejudice and xenophobia sometimes held them back, due to no fault of their own. 
Sergeant Beharry exudes more than just heroism. He is the face of a modern Britain, one where people of different backgrounds, cultures and faiths can have a future. This does not mean that we disregard the fact that as a country, we do not have our fair share of problems. It means that modern Britain is one which is home to many communities who feel that they are willing to put their energies into the defence of the realm, the reputation of our country and where they can help those in need through international aid missions. Sergeant Beharry did this in Kosovo and when he wears his Victoria Cross, he not only makes us all proud, he becomes a mentor to many looking for structure and guidance in their lives.